Do you have Nontuberculous
Mycobacterial (NTM) Pulmonary Disease?
You can search for pending or recruiting clinical trials through the National Library of Medicine's clinical trials website, clinicaltrials.gov.
This site also maintains a list of recruiting studies. If you are a principal investigator or study site and wish to add an IRB-approved trial to our listings, or if you wish to have your study information amended or removed from ntminfo.org, please email ntmmail@ntminfo.org.
MAC CLINICAL TRIAL | MAC LUNG DISEASE
Consider joining MACrO 2, a MAC clinical research study (MAC clinical trial).MACrO 2 is for people with Mycobacterium avium complex (MAC) lung disease that has not responded to prescribed antibiotic medications.. MAC is a type of nontuberculous mycobacteria (NTM) lung disease. Study Overview
www.macro2study.com Learn more
ARISE/ENCORE CLINICAL TRIAL PROGRAM FOR MAC LUNG DISEASE
Insmed is conducting a clinical study for MAC lung disease patients. The results of this study will help researchers gain a better understanding of a study treatment being evaluating for potential treatment of MAC lung infections and for improved symptoms including decreased respiratory discomfort and fatigue. You may receive study-related treatment at no cost and reimbursements for your site visits. If you qualify to enroll and decide to participate, you will be assigned to one of two studies for individuals with MAC lung disease. Please visit ntmlungstudy.com to learn more about the study and to see if you may qualify.
Further Details and Next Steps:
• First, see if you may qualify using the website linked above. A patient outreach representative will call you and help guide you through the process.
• Then, a research site will assess if you meet the criteria to participate in the study. If you qualify you will be assigned to one of two studies.
• Throughout the study, you will take daily study drugs and have visits with your clinical team.
DO YOU HAVE NONTUBERCULOUS MYCOBACTERIAL (NTM) PULMONARY DISEASE?
If you are living with NTM Pulmonary Disease caused by Mycobacterium abscessus Complex (MABc), you may qualify for a research study and receive an investigational drug (or placebo) and study-related care from a study doctor. Find out more by clicking this link to the trial information:
Study SPR 720 (SPERO THERAPEUTICS, INC.)
In this study, scientists are investigating a study drug called SPR720 for adults with MAC PD.
Together, we can continue growing our understanding of Mycobacterium avium Complex (MAC) pulmonary disease. Now Enrolling: Mycobacterium avium complex (MAC) pulmonary disease study. Ask your doctor about eligibility for this study. This study is researching the study drug SPR720 to find out how well it works for individuals with MAC PD when compared to a placebo. Learn more.
IMPALA-2 CLINICAL TRIAL
The IMPALA-2 clinical trial is investigating molgramostim nebulizer solution (molgramostim) for the potential treatment of aPAP.
Read more about the clinical trial and aPAP HERE.
VOLUNTEERS NEEDED FOR RESEARCH STUDY IN AUSTRALIAN PATIENTS WITH NTM LUNG INFECTION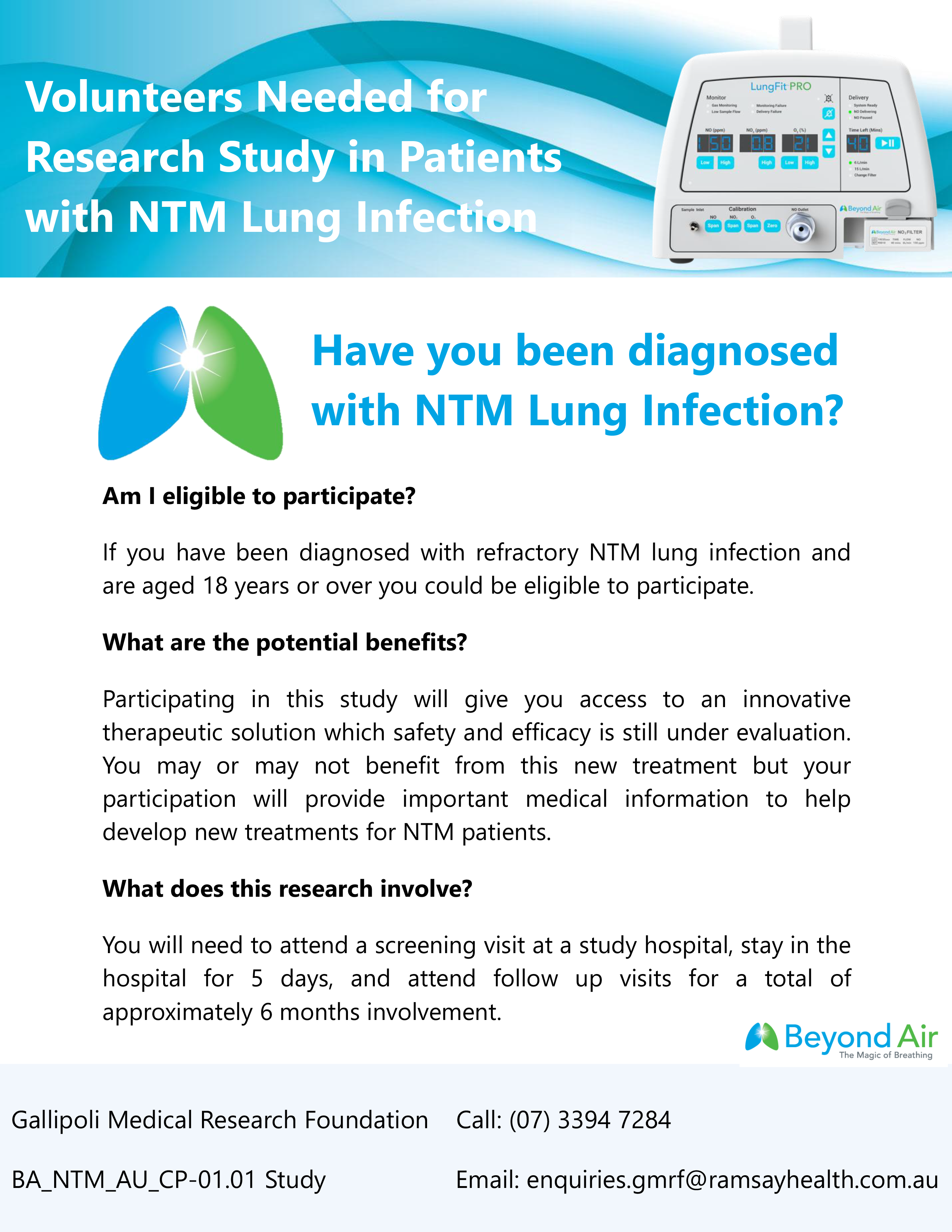 MAC2V3 PRAGMATIC CLINICAL TRIAL
We are a team of researchers at Oregon Health and Science University and 20+ partner sites across the United States and Canada conducting a Patient-Centered Research Outcomes Institute (PCORI)-funded pragmatic trial to determine whether 2-drug therapy is as effective as and more tolerable than 3-drug therapy for pulmonary MAC disease, or "MAC2v3".
Clinicaltrials.gov Information Page with eligibility criteria: https://clinicaltrials.gov/ct2/show/NCT03672630
Let us support you with guidance from NTM experts as your uncomplicated pulmonary MAC patients begin treatment! MAC2v3 study participation has been expanded to include virtual enrollment and telehealth visits. The study team is now able to enroll patients from any health care provider nationwide. However, we need to enroll them prior to starting treatment. Once randomized, patients are monitored per usual care in collaboration with your clinic. Data collection is managed by the enrolling site. Please contact MAC2v3@ohsu.edu if you are interested in participating and providing this opportunity to your patients.
HOME SPUTUM COLLECTION PROJECT
The COPD Foundation and NTM Info & Research, in partnership with a team of experts at National Jewish Health has designed a pilot program aimed at improving the current process for sputum testing. There will be no cost to the patient or physician as part of this pilot program.
Patients are able to provide sputum samples in the home setting

We can improve timelines of results and provide access to increased species identification and drug susceptibility testing

Home sputum collection provides a safe and accessible alternative to producing sputum in the laboratory setting
To learn more about the Home Sputum Collection Project and eligibility criteria, visit www.homesputum.org. Physicians interested in participating must complete an initial screening survey here.
NATIONAL LIBRARY OF MEDICINE CLINICAL TRIALS LISTINGS
CLEAR-MAC – RHB-204 FOR THE TREATMENT OF PULMONARY MYCOBACTERIUM AVIUM COMPLEX DISEASE
A 2-part multi-center, Phase 3, randomized, double-blind, placebo-controlled, parallel-group study to evaluate the efficacy and safety of RHB-204 in adult subjects with underlying nodular bronchiectasis and documented MAC lung infection. Learn More.
EVALUATION OF THE LUNG MICROBIOME IN NTM BRONCHIECTASIS
A biomarker cohort study design is proposed to study whether specific airway microbiota alterations are associated with pulmonary Non-tuberculous mycobacteria (NTM) disease. Learn more.
STUDY OF MYCOBACTERIAL INFECTIONS
This study will examine the symptoms, course of disease and treatment of non-tuberculous mycobacterial (NTM) infections, as well as the genetics involved in these infections. Learn more.
CLOFAZIMINE IN THE TREATMENT OF PULMONARY NONTUBERCULOUS MYCOBACTERIUM AVIUM COMPLEX (MAC)
Investigators have developed a randomized, placebo-controlled clinical trial to assess the clinical efficacy and safety of clofazimine when used to treat MAC lung disease. Learn more.
PROSPECTIVE ALGORITHM FOR TREATMENT OF NTM IN CYSTIC FIBROSIS (PATIENCE)
ESTIMATED CASES
OF NTM IN THE US
IN 2020
THE RISE IN THE
NUMBER OF NTM CASES
EACH YEAR
ANTIBIOTIC-
RESISTANT INFECTIONS
IN THE US EACH YEAR